Fish On Fire Charters - Testimonials
Here's what a few of our customers have had to say about us.
Have a testimonial of your own to share?
Send a Testimonial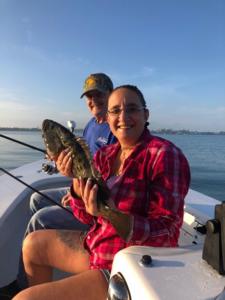 Patti Jordan
Winter 2017 - Sarasota, Florida
Charted this fishing trip to take my Dad fishing. We had a very good time! Captain Marc was very knowledgeable and experienced. He knew exactly where to take us to catch fish. We will definitely use Captain Marc again!
Doug Piatt
Fall 2016 - Charlotte Harbor & Cashiers NC
First met Marc in Cashiers NC. Had a great day of fly fishing the trout streams. Found out that Marc spends his winters in Southwest Florida (where I was born & raised) My family is currently living in Ormond Beach on Florida's east coast. I really wanted to take my 14 year old son to the Boca Grande area for some great snook fishing, but it had been years since I'd fished the area. So we hooked up with Marc and had a fantastic day! That's my son in a few of the Charlotte Harbor pictures holding the slob snook! Can't say enough good things about Marc. Looking forward to our next trip in May to look for Tarpon off the beaches.