Fish On Fire Charters - Testimonials
Here's what a few of our customers have had to say about us.
Have a testimonial of your own to share?
Send a Testimonial
Brian Haines
Spring 2023 - Sarasota FL
Booked a morning charter with Captain Marc, and the experience was fantastic. He put our group right on fish, and we were catching them all day. The entire trip was so enjoyable and fun we will definitely book with him again the next time we come down. Highly recommend booking something with Fish On Fire, you will not regret it.
Paul L
Best Half Day trip with Capt. Marc
Are you looking for/researching the best Fishing Charter in Sarasota? You Found it! Captain Marc is simply the best Charter Captain we've ever had in several years of such charters! He was early to the dock; wasted no time getting us out on the water to fish. Marc is a knowledgeable, he knows where to go and how long to stay. He is a patient teacher especially after getting the hook stuck in the rocks repeatedly. Add that he is very personable… we had a fantastic day!
Thank You Captain Marc!!!!
John T
1/2 Day with Capt. Marc
Had a great morning fishing with Capt.Marc of Fish on Fire Charters.Marc really knew the water and where the fish were .I was able to catch my first snook 28 inches..i had such a great experience that I am booking another trip in a couple of weeks. .
Heather B
Excellent time! Can't wait to go again!
I couldn't have asked for a better day or guide! Even though the winds were off we were able to catch a plentiful amount of fish. We took them to Walt's Fish Market and enjoyed an absolute feast! Thank You so much for a perfect day!
Brian S
Making Memories
By far, the most hospitable Captain a father could ask for to help make such great memories with his sons. It didn't matter how many times they voted caught up in the rocks or reefs, Captain Marc made my boys feel comfortable and excited!... He is our Captain every time we come down!
Fred P
3/4 Day Trip
Captain Marc was awesome. He knows the area extremely well and takes you right where the fish are. The boat and gear were in great condition. We caught multiple species and had a great time. Captain Marc took care of everything! When we come back again on our next vacation I am going to use Captain Marc for our next fishing trip. It was an excellent experience and I highly recommend Fish on Fire Charters.
Joel M
6-Hour Trip
We had a great time fishing with Marc today. We chose a 6-hour trip and were able to catch about a half dozen varieties of fish. We started out catching some great Snook and then moved on to trout. He then took us out to the Gulf to do some trolling for Kings. The Gulf was a little choppy and there wasn't much action, so we headed back for more inshore fishing.
What I appreciate about Marc is that if the fish weren't biting he moved on to another spot where they were. By the end of the day, we had caught some nice fish and were able to take home our limit in trout and even a Spanish mackerel and flounder. Having a captain who knows the area and has been doing this for years really pays off. I would definitely do this trip again.
Travis J
Half Day AM tRIP
This was our 2nd time fishing with Captain Marc. When we were back in the area it was an easy choice to book with him again as our first experience with his was great as well and will book again with him whenever we make it back to the Sarasota area again. While the conditions made the fishing tougher than our previous trip, he didn't just say "that's the way it is", he worked hard running different places and trying different techniques. It's that hard work and no quit drive that make him a GREAT guide. He is very personable and easy to talk to and very knowledgeable of the area. For my son and I it's about getting on the water, having a great time, catching some fish and seeing some sights that you don't see from land. Both times we joined him was all of that and more.
Michael P
3/4 Day Inshore trip with Capt. Marc
Michael P. recommends Fish On Fire Charters
Kathy H
Half Day Trip
Had a great day out on the water with Captain Marc! He knew all the right spots to find the fish, we were able to catch a great variety. For a bunch of beginners, he was so helpful and had everything prepared and just what we needed! We were able to head home with lots of fish and can't wait to join him again!
Chris K
We had a great half-day with Captain James in Sarasota Bay. We were on some big Redfish before 9:00 am. While Redfish are out of season, we still finished the day with a load of Sheepshead and Drum. Captain James will put you on the fish! Scott - Michigan
S.S.G
We had a great half-day with Captain James in Sarasota Bay. We were on some big Redfish before 9:00 am. While Redfish are out of season, we still finished the day with a load of Sheepshead and Drum. Captain James will put you on the fish! Scott - Michigan
Breianna H
Captain James was really fun to fish with! He took us to several different spots and the fish were biting all day. He handled the waves with ease and made our family trip really enjoyable. He really excelled at multi tasking the trolling motor, helping us in hook some of the teethier fish, and handing out bait because his fishing spots were really non-stop action. We had a blast and will definitely book with him again in the future!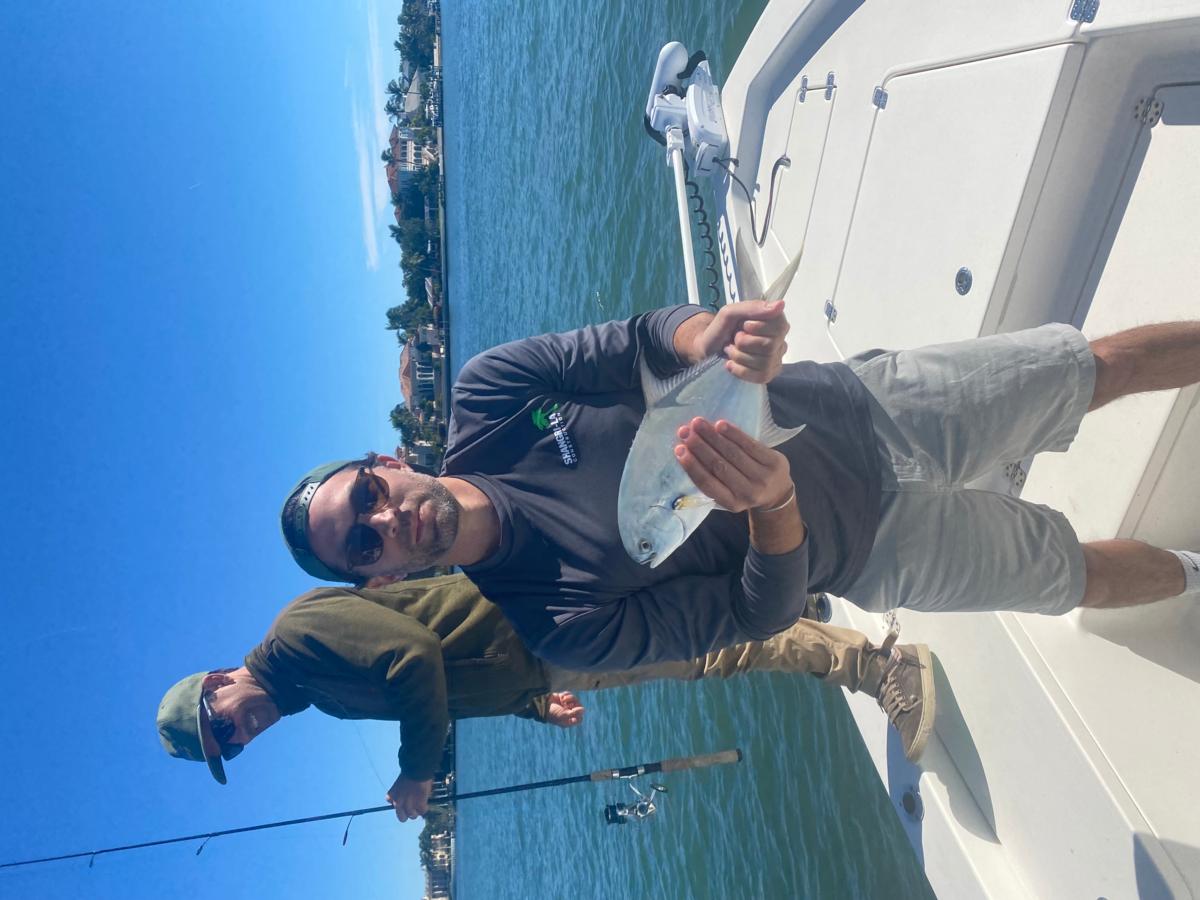 Nick, John, Alex
Fall 2021 - Sarasota
This fishing trip was exactly what we were looking for. We caught all kinds of fish. We fished many different spots, and capt marc was the perfect guide. Really enjoyed the experience and will be back.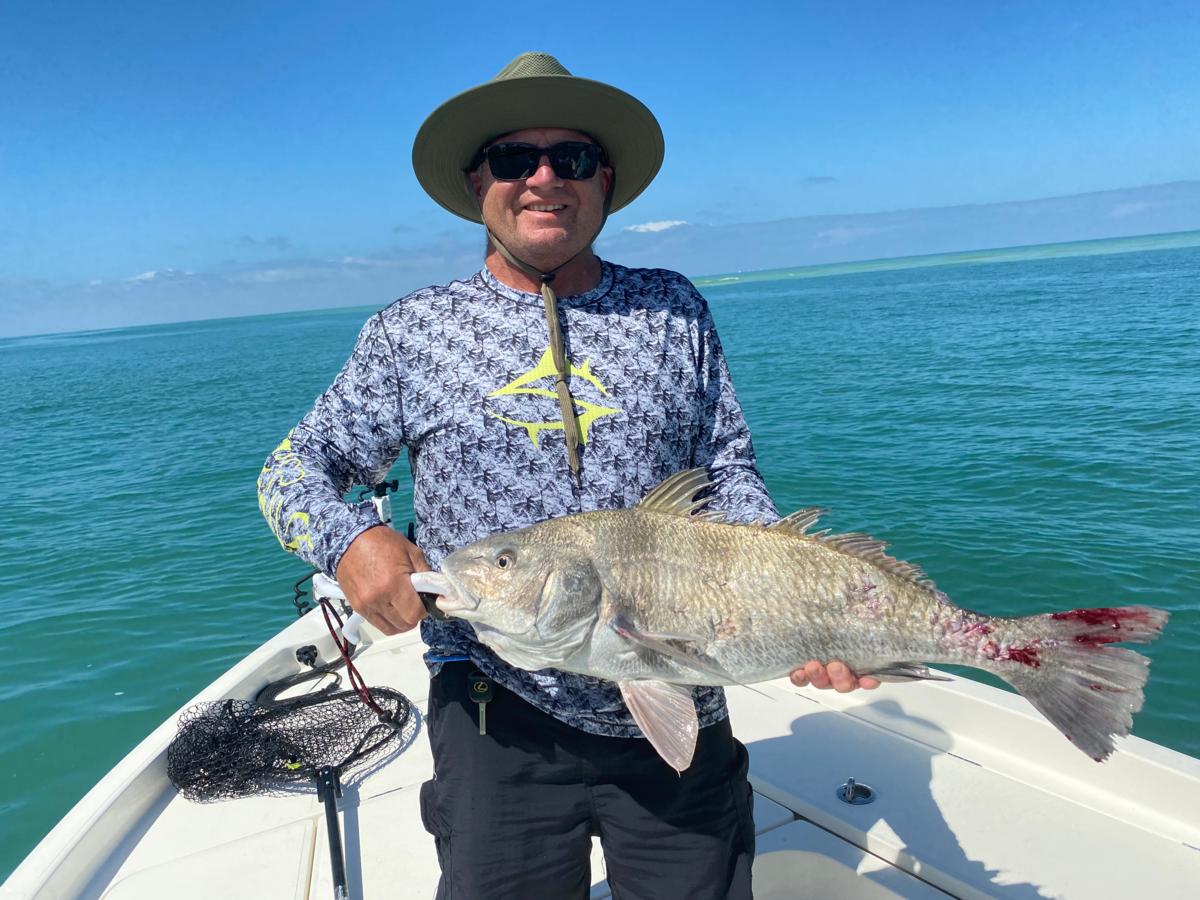 John Holloway
March 23, 2021 - Sarasota, Fl.
It was a sheepshead kind of day. Captain Marc definitely lived up to the hype I got at Fish Tales bait and tackle shop in Nokomis. Awesome trip, boat load of sheepshead, two pompano, some jacks and a monster Black Drum.(which I thought was I stuck on bottom) This man put us on the fish and delivered in spades. I do believe his the best boat and he is the best captain in Sarasota.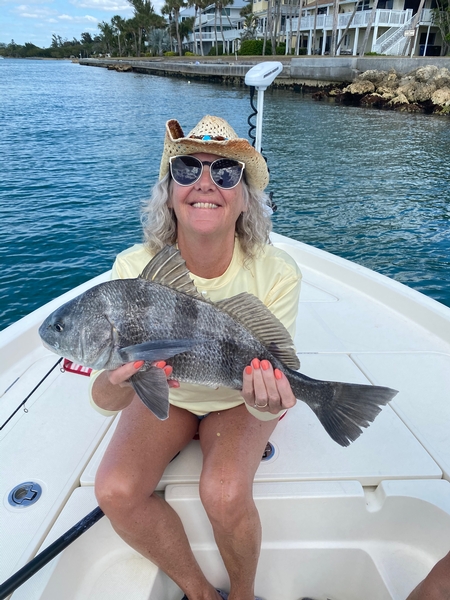 Randy & Mary Jo Smith
March 2021 - Sarasota Fl
Four of us went out with Captn Marc March 9 2021. Caught about 10 species of fish. Kept black drum, sheepshead, gray snapper, whitting, and pompano. We had sooooo much fun catching and releasing many fish. Marc is a very knowledgeable fishing guide not to mention being a great teacher of fishing techniques. Did I mention that he is extremely patient with his clients. We will definitely be fishing with him again.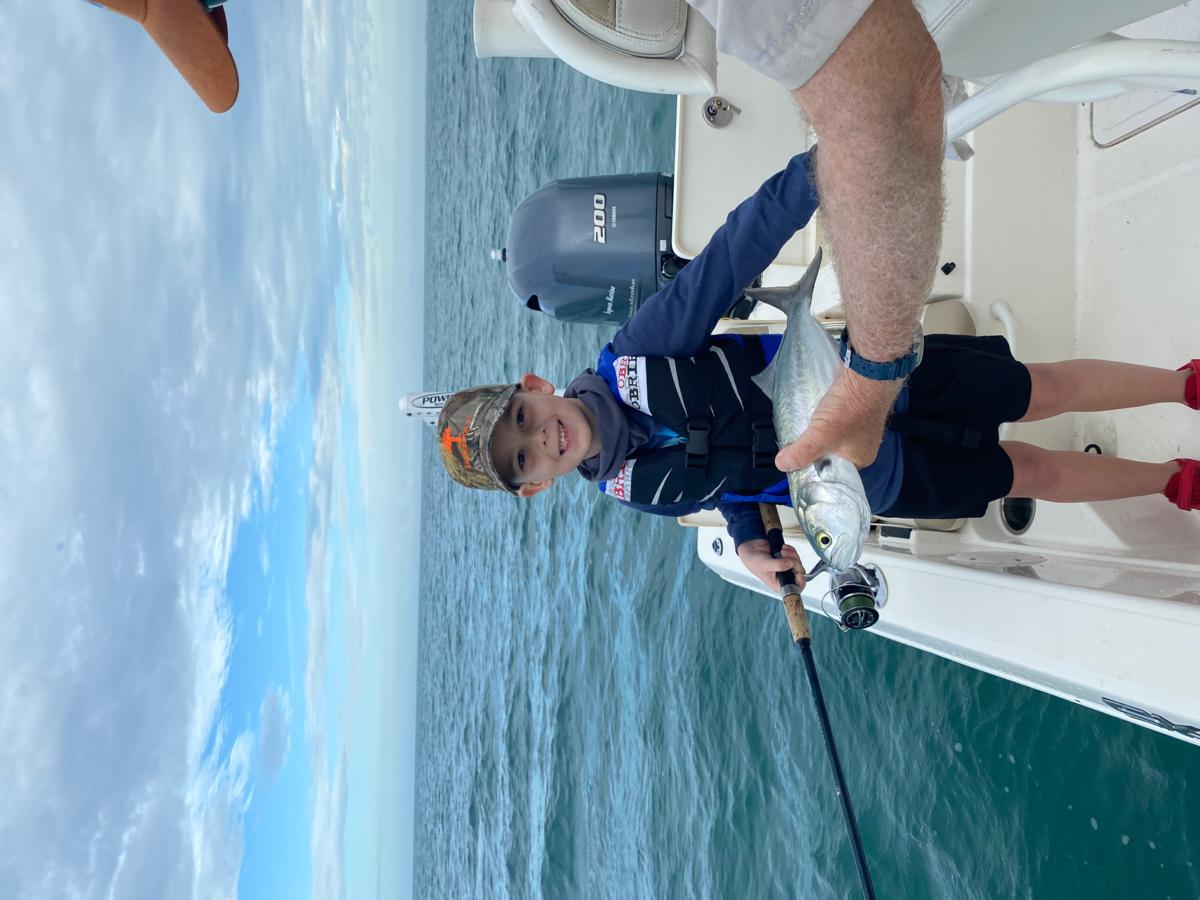 The McGlynns
Winter 2021 - Sarasota, Florida
We have been fishing with Capt. Marc for 4 years and have never had a bad trip. Marc is very passionate about fishing and will do whatever it takes to fill the cooler with fish. Marc is also very patient and helpful with children. My 6 year old son had an absolute blast and caught a ton of fish. I would recommend Fish on Fire to anyone looking for a relaxing, successful and personable day of fishing!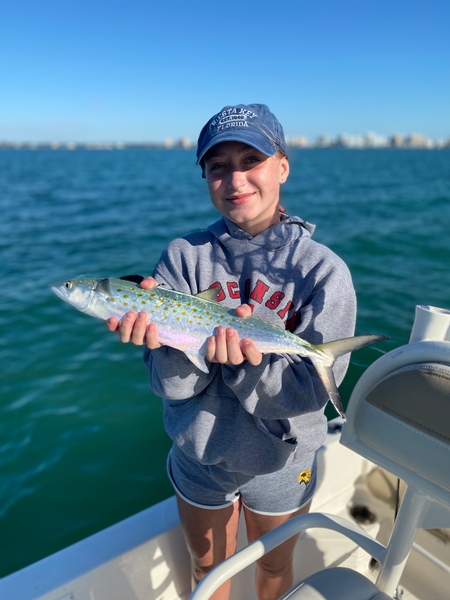 Mike and Paula Kasten
Winter of 2021 - Greenfield, WI
We had a great day with Captain Marc. It was a great experience, he's a nice guy, we caught a lot of fish, saw a couple of dolphins and even went out to a reef in the Golf. Marc also told us where we could take our fish and have them cooked for lunch, it was fantastic. We look forwarding to being with Marc again next year....if not sooner.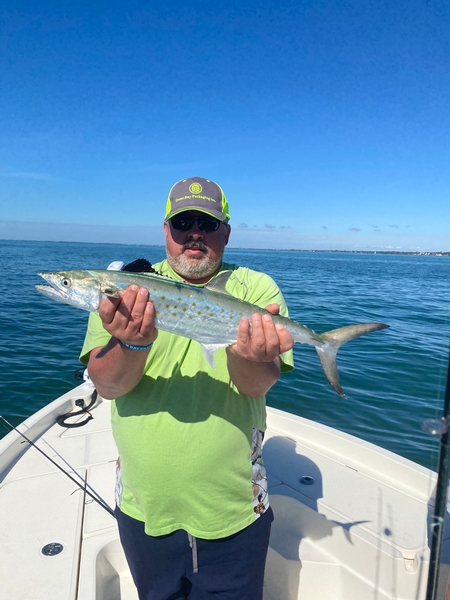 Jeff Hintze
Winter 2021. - Sarasota Florida
Had a great day fishing with captain Marc we caught big spanish mackerel, some nice trout, and a few blues.Would highly recommend everything was topnotch and Marc is very easy to get along with..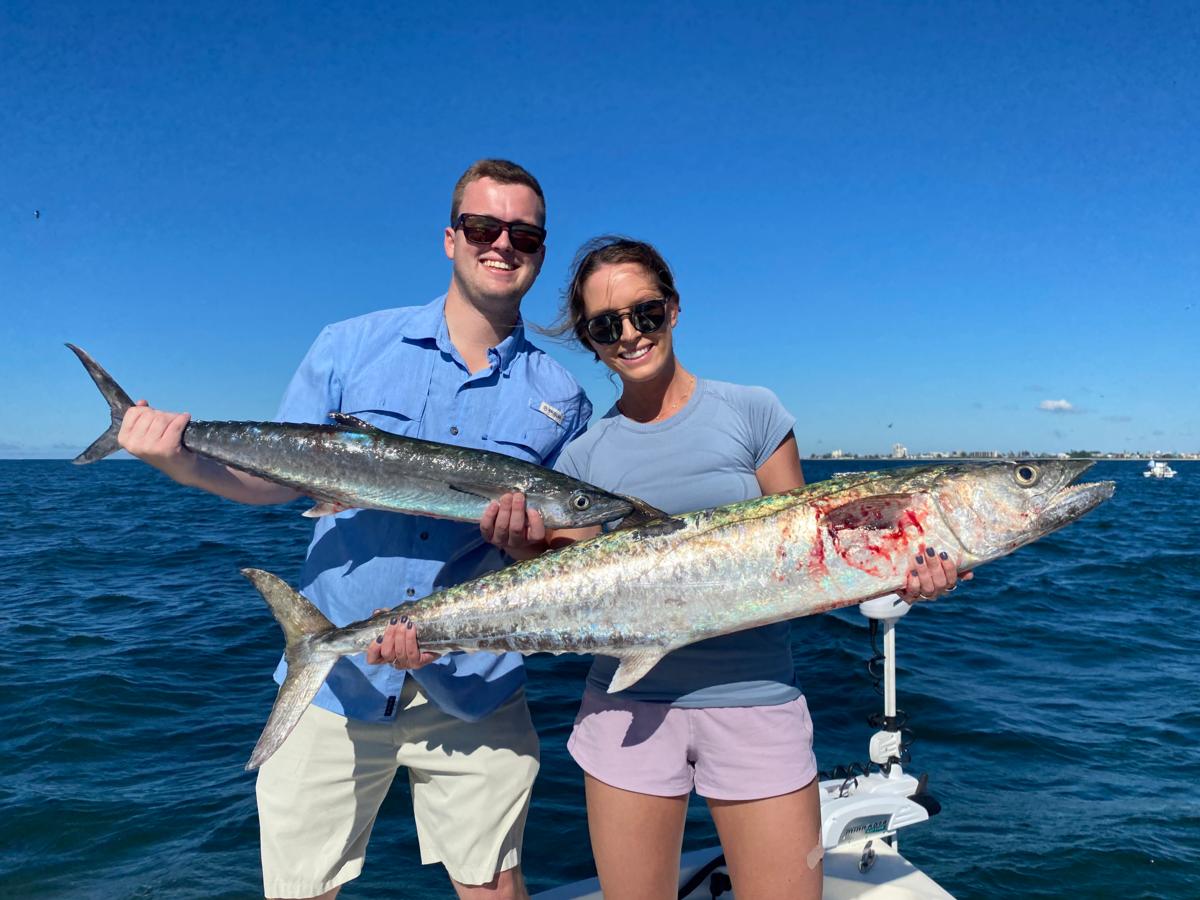 Mason Howell
Fall 2020 - Sarasota, FL
We had an outstanding day with captain Marc catching King Mackerel, sharks, and Bonita. So good that we booked him again the same week! The second time out we had another stellar day adding several species to our species list. Captain Marc has a new, clean boat with outstanding equipment. The captain, his experience, the vessel, and equipment commands a 5 star rating any day!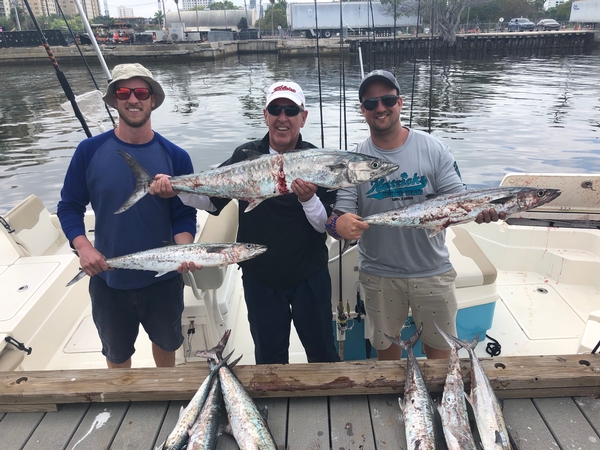 Darren
Spring 2019 - Stoney Creek, Ontario
This was my second time fishing with Marc and just like the first time, he put us on fish, treated us well, and couldn't have been more accommodating. We asked for something different as we travel down once a year from the Toronto area to escape the cold. HE DELIVERED. We will be heading down once again next spring and I will absolutely be calling Marc and I hope he's available! Thanks again, Marc, always a blast fishing with you.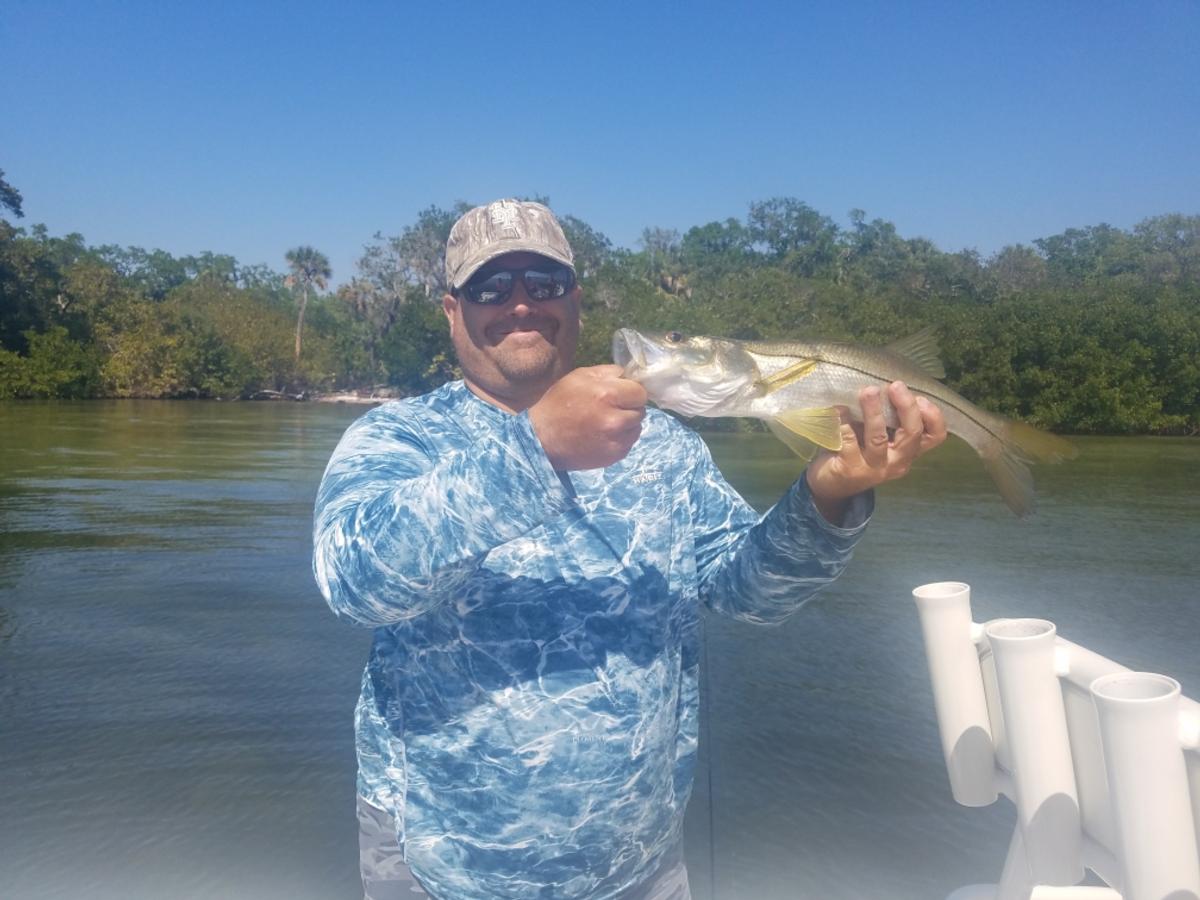 John H
March 2019 - Sarasota, Fl
2nd trip 1/2 day trip with Capt Marc, went last March, loved it so much we were back for more this March. Had a great time, landed some nice fish and Capt Marc went out of his way to make sure we were on them. We wanted Snook and Mackeral, and we landed about 7 of each between the two of us. Some of the pics are attached. Capt Marc was helpful as usual, on time and with his great boat. He offered to clean our fish for us if we wanted the mackerel, but we were catch and release only because we were on vacation. If you're looking for a great guide that will take care of your group, Capt Marc is for you. We're even hoping to catch him for a Fly fishing trip up in NC this summer.
Gus Larson
Well…they say it happens to the very best of them. We had a perfect-storm kind of a fishing day, the odds were clearly stacked against us: a persistent cold front, strong winds, and the general Siesta Key area still at the tail end of its recovery from the red tide. Captain Marc went out of his way to try to find fish for us. I have no idea how many gallons of gas he went through, but we switched spots several times i.e., switched areas that were a good mile or two -at least- apart. We got some limited action to keep it entertaining, a sheepshead and several ladyfish, but we can surely attest to the fact that the limited action that we had wasn't for a lack of effort on Captain Marc's side.

It is a lot easier to write a good review when everything goes your way but, as a fisherman who has done his fair share of salt water/deep-sea fishing, I know how it goes sometimes. Captain Marc was very polite and dedicated, and we kept some great conversation going to prove, once again, that a subpar fishing day always beats a good day in the office. Thanks, Captain Marc! We'll book our fishing with you the next time we swing by Siesta Key!
Gus Larsen
Dan Andrews
February 2019 - Sarasota, FL
Fish bite was a bit slow, but Captain Marc kept us on the fish and gave us a great trip. Boat was top notch and the conversation was enjoyable. Will definitely book again when back in the Sarasota ares.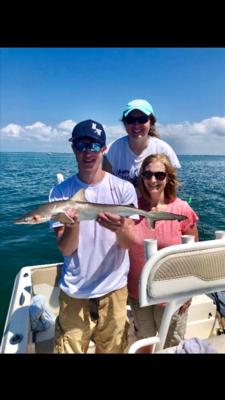 Chris Parson
Speing2018 - Sarasota Florida
Had a great time fishing with Marc! He had the four of us on fish. Got to see a dolphin and some sting rays too . We would definitely go with him again!
Chuck Boyette
Spring 2018 - Sarasota, Florida
My two boys and I booked a charter with Captain Mark in Sarasota Bay! We had a fantastic time! Captain Mark was amazing! He knew the area so well, and put us on a lot of fish in not so favorable weather conditions. He taught my boys how to fish for the different species that we were targeting, and he made sure that we had a great experience! Truly, memories that will last a life time! We can't wait to fish with Captain Mark again!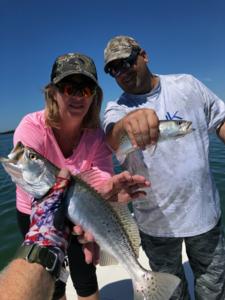 John Hrobuchak
March 2018 - Longboat Key, Florida
My girl and I did a half day trip with Capt Marc. Started out by meeting up in Siesta Key instead of Downtown Sarasota and saved us both some time. He was on time, and the boat looked great. A strong cold front came through a few days earlier and threw off the bite, so we adjusted the plan from original. Started out on some stripped convicts to start the day, and it was perfect to get my girl comfortable with the boat and gear, and we scored about 10-15 along with a nice dolphin encounter which made her even happier. After about an hour, we moved on to find some trout. We had to do some searching, but eventually got into some non stop action. We even managed to get some early Spanish Mack action going scoring a couple of those. In the end, we did catch and release all day as we were on vaca and no intention of bringing them home with us, but we probably added about 25-30 trout to the Sheepies and Macks. Great day overall, I had fun fishing all day and Capt Marc did a great job of keeping my girl happy, fishin and catching all day. Capt Marc even kept us out a bit longer to make up for the longer ride we took to find them. Look forward to booking a snook trip with you soon. Thanks again.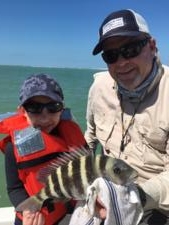 Ben Lombardi
Spring 2018 - Cleveland, Ohio
My six year old son and I took a charter in March of 2018. We are inexperienced anglers but Capt. Marc assured us we would catch fish. The conditions proved difficult, (very windy) but Marc took us to one of his spots where within minutes we were hooking and landing fish. Marc was great with kids and helps us as much or as little as we wanted. His boat and equipment are top notch and he was very professional and responsive during the booking process. I looks like fishing with Capt. Mac will part of our annual Sarasota vacation. Thanks for a great experience!
Darren
March 2018 - Hamilton, Ontario
Fantastic experience fishing with Capt. Marc. Had never fished Sarasota area before and Marc put us on fish and couldn't have been more accommodating. I'm back every March and I will definitely be giving him a ring to go catch more fish.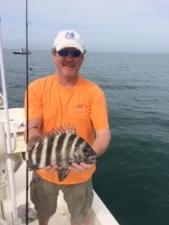 Craig Radocy
Winter 2018 - Sarasota, FL
Fishing with Captain Marc was great. He put us on many different fish (Trout, sheepshead, perch, etc). Communication was easy and responsive. I mentioned that I flyfish in Connecticut and he brought a fly rod along so I can catch my fist saltwater trout. His boat is new and clean. Overall a great experience with a great guy/guide. I plan to fish with Marc again.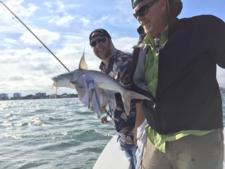 Don Cook
Winter 2017 - Sarasota, Florida
Our experience with Captain Marc was wonderful! We had a great day (6 hours) on his boat fishing all over the bay. We caught 25 total fish, most of which went back but that didn't matter to us as much as the fun we were having. Marc took us all over to his favorite spots and gave us a lot of good conversation. We would definitely use him again the next time we go to Sarasota!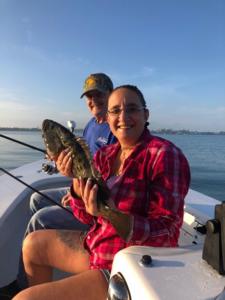 Patti Jordan
Winter 2017 - Sarasota, Florida
Charted this fishing trip to take my Dad fishing. We had a very good time! Captain Marc was very knowledgeable and experienced. He knew exactly where to take us to catch fish. We will definitely use Captain Marc again!
Doug Piatt
Fall 2016 - Charlotte Harbor & Cashiers NC
First met Marc in Cashiers NC. Had a great day of fly fishing the trout streams. Found out that Marc spends his winters in Southwest Florida (where I was born & raised) My family is currently living in Ormond Beach on Florida's east coast. I really wanted to take my 14 year old son to the Boca Grande area for some great snook fishing, but it had been years since I'd fished the area. So we hooked up with Marc and had a fantastic day! That's my son in a few of the Charlotte Harbor pictures holding the slob snook! Can't say enough good things about Marc. Looking forward to our next trip in May to look for Tarpon off the beaches.
Send us a Testimonial
To our past clients: We appreciate your comments and if you would, fill out the form with comments and a photo about your experience at Fish On Fire Charters. Fields marked with * are required. Please enter the Name field how you want your name to read on our website (Examples: John Doe, J. Doe, John D., John Doe Corporation).