Fish On Fire Charters - Testimonials
Here's what a few of our customers have had to say about us.
Have a testimonial of your own to share?
Send a Testimonial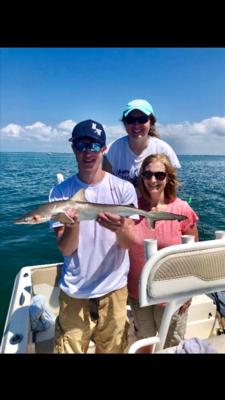 Chris Parson
Speing2018 - Sarasota Florida
Had a great time fishing with Marc! He had the four of us on fish. Got to see a dolphin and some sting rays too . We would definitely go with him again!
Chuck Boyette
Spring 2018 - Sarasota, Florida
My two boys and I booked a charter with Captain Mark in Sarasota Bay! We had a fantastic time! Captain Mark was amazing! He knew the area so well, and put us on a lot of fish in not so favorable weather conditions. He taught my boys how to fish for the different species that we were targeting, and he made sure that we had a great experience! Truly, memories that will last a life time! We can't wait to fish with Captain Mark again!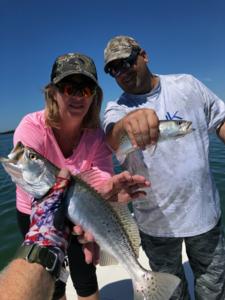 John Hrobuchak
March 2018 - Longboat Key, Florida
My girl and I did a half day trip with Capt Marc. Started out by meeting up in Siesta Key instead of Downtown Sarasota and saved us both some time. He was on time, and the boat looked great. A strong cold front came through a few days earlier and threw off the bite, so we adjusted the plan from original. Started out on some stripped convicts to start the day, and it was perfect to get my girl comfortable with the boat and gear, and we scored about 10-15 along with a nice dolphin encounter which made her even happier. After about an hour, we moved on to find some trout. We had to do some searching, but eventually got into some non stop action. We even managed to get some early Spanish Mack action going scoring a couple of those. In the end, we did catch and release all day as we were on vaca and no intention of bringing them home with us, but we probably added about 25-30 trout to the Sheepies and Macks. Great day overall, I had fun fishing all day and Capt Marc did a great job of keeping my girl happy, fishin and catching all day. Capt Marc even kept us out a bit longer to make up for the longer ride we took to find them. Look forward to booking a snook trip with you soon. Thanks again.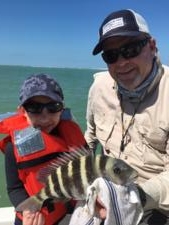 Ben Lombardi
Spring 2018 - Cleveland, Ohio
My six year old son and I took a charter in March of 2018. We are inexperienced anglers but Capt. Marc assured us we would catch fish. The conditions proved difficult, (very windy) but Marc took us to one of his spots where within minutes we were hooking and landing fish. Marc was great with kids and helps us as much or as little as we wanted. His boat and equipment are top notch and he was very professional and responsive during the booking process. I looks like fishing with Capt. Mac will part of our annual Sarasota vacation. Thanks for a great experience!
Darren
March 2018 - Hamilton, Ontario
Fantastic experience fishing with Capt. Marc. Had never fished Sarasota area before and Marc put us on fish and couldn't have been more accommodating. I'm back every March and I will definitely be giving him a ring to go catch more fish.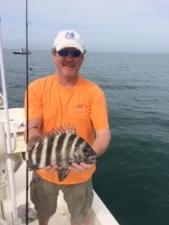 Craig Radocy
Winter 2018 - Sarasota, FL
Fishing with Captain Marc was great. He put us on many different fish (Trout, sheepshead, perch, etc). Communication was easy and responsive. I mentioned that I flyfish in Connecticut and he brought a fly rod along so I can catch my fist saltwater trout. His boat is new and clean. Overall a great experience with a great guy/guide. I plan to fish with Marc again.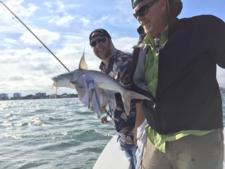 Don Cook
Winter 2017 - Sarasota, Florida
Our experience with Captain Marc was wonderful! We had a great day (6 hours) on his boat fishing all over the bay. We caught 25 total fish, most of which went back but that didn't matter to us as much as the fun we were having. Marc took us all over to his favorite spots and gave us a lot of good conversation. We would definitely use him again the next time we go to Sarasota!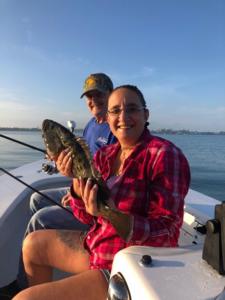 Patti Jordan
Winter 2017 - Sarasota, Florida
Charted this fishing trip to take my Dad fishing. We had a very good time! Captain Marc was very knowledgeable and experienced. He knew exactly where to take us to catch fish. We will definitely use Captain Marc again!
Doug Piatt
Fall 2016 - Charlotte Harbor & Cashiers NC
First met Marc in Cashiers NC. Had a great day of fly fishing the trout streams. Found out that Marc spends his winters in Southwest Florida (where I was born & raised) My family is currently living in Ormond Beach on Florida's east coast. I really wanted to take my 14 year old son to the Boca Grande area for some great snook fishing, but it had been years since I'd fished the area. So we hooked up with Marc and had a fantastic day! That's my son in a few of the Charlotte Harbor pictures holding the slob snook! Can't say enough good things about Marc. Looking forward to our next trip in May to look for Tarpon off the beaches.